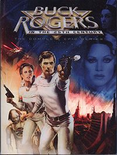 In 1987 National Aeronautics and Space Administration launches a manned probe on a 5 month trip around the solar system. The probe's pilot is Captain William "Buck" Rogers. Something goes wrong, however, and Buck's life support systems are frozen and he is propelled into deep space. When the spacecraft returns to the vicinity of Earth, the year is 2491. Buck awakens from his deep cryogenic sleep to find Earth in the aftermath of a late 20th Century World War III. Because of his piloting skills Buck becomes a valuable member of the Earth Defense Directorate, which is headed by Dr. Elias Huer. Buck also finds himself a part of a fighter squadron headed by Colonel Wilma Deering. Among his other compatriots are Twiki--a likable robot who becomes Buck's pal--and Dr. Theopolis--a mechanical brain who is part of Earth's Computer Council.
In the show's second season, Buck, Wilma, and Twiki join the crew of a starship named Searcher. The ship, commanded by Admiral Asimov, is on a mission to locate the lost tribes of Earth -- humans who fled their home world after World War III. Also aboard the Searcher are scientist Dr. Goodfellow and Crichton -- a snobbish robot built by Dr. Goodfellow. The humans are later joined by Hawk -- a birdman whose people were hunted almost to extinction by a band of murderous humans. The second season of Buck Rogers in the 25th Century took a drastic change from it's first season. With only three of the original characters carried over, the producers were hoping for a larger audience as they made it a little more like Star Trek. Unfortunately, the show had even worse ratings then before and thus with a short second season the show was cancelled.
Main Cast
Edit
Gil Gerard as William "Buck" Rogers
Erin Gray as Wilma Deering
Tim O'Connor as Elias Huer
Thom Christopher as Hawk
Wilfrid Hyde-White as Goodfellow
Jay Garner as Efram Asimov
Paul Carr as Devlin
Felix Silla as Twiki
Mel Blanc as Twiki
Bob Elyea as Twiki
Eric Server as Theopolis
Jeff David as Crichton
William Conrad as Narrator
Pamela Hensley as Princess Ardala
Guest Cast
Edit
Michael Ansara as Kane (Escape from Wedded Bliss, Ardala Returns, Flight of the War Witch)
Gary Coleman as Hieronymus Fox (Cosmic Wiz Kid, A Blast for Buck)
Buster Crabbe as Gordon (Planet of the Slave Girls)
Jamie Lee Curtis as Jen Burton (Unchained Woman)
Frank Gorshin as Kellogg (The Plot to Kill a City)
Peter Graves as Noah Cooper (Return of the Fighting 69th)
Mark Lenard as Duvoe (Journey to Oasis)
Barbara Luna as Koori (Time of the Hawk, The Guardians)
Roddy McDowell as Saroyan (Planet of the Slave Girls)
Richard Moll as Yara (Space Rockers)
Julie Newmar as Zarina (Flight of the War Witch)
Jack Palance as Kaleel (Planet of the Slave Girls)
Markie Post as Joella Cameron (The Plot to Kill a City)
Cesar Romero as Amos Armat (Vegas in Space)
Henry Silva as Kane (Awakening)
Dorothy Stratten as Miss Cosmos (Cruise Ship to the Stars)
Ray Walston as Roderick Zale (Cosmic Wiz Kid)
Ad blocker interference detected!
Wikia is a free-to-use site that makes money from advertising. We have a modified experience for viewers using ad blockers

Wikia is not accessible if you've made further modifications. Remove the custom ad blocker rule(s) and the page will load as expected.